Lakedell is currently looking for volunteers to get playground off and running.  If you are interested please call the office at 780-586-2505
The Lakedell Playground was built in the spring of 2001 and provides a wonderful assortment of apparatus for children to enjoy.
The playground is constructed on a sand base for soft landings. Picnic tables are in close proximity for family lunches and relaxing while supervising children at play.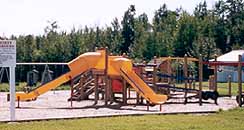 Indoor washrooms are close at hand and always available.